---
Thu 15 Feb 18

We are looking for a talented go getter to join our team of writers on a part-time basis to produce content for our portfolio of publications – Travel Daily, Pharmacy Daily, travelBulletin, Cruise Weekly and Business Events News.
---
Tue 06 Feb 18
Deck Chair Cruising,(Div of Discovery Rentals www.discoveryrentals.com.au) is looking for 2 cruise specialists, one Web-based Full Time Sales position at our Springwood QLD office and one flexible Part-time working from home position to service social media and live chat inquiries.
---
Tue 23 Jan 18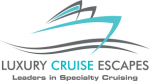 Love the flexibility to work from home - luxury cruise sales A significant "work life balance" opportunity exists for cruise specialists to apply for this work smarter - not harder - internet / home based role that specialises in ONLY select range of premium cruise product.
---
Thu 18 Jan 18

Ready to jump ship and cruise into a new travel role.
---
Thu 18 Jan 18

Are you looking to be a specialist in your field.
---
Thu 18 Jan 18

Are you a Cruise Guru looking for a flexible temp contract while you figure out where you want your career to sail in 2018.
---
Thu 18 Jan 18

Do you have a strong passion for cruises and love customer service.
---
Thu 18 Jan 18

Join the fastest growing sector in the travel industry.
---
Thu 18 Jan 18

Are you a cruise specialist and sick of face to face consulting.
---
Thu 18 Jan 18

Are you a strong leader ready to take on a new challenge working for a well renown global travel corporation.
---