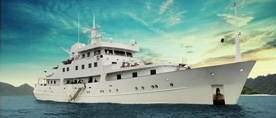 Andaman's delay detailed
PANDAW founder, Paul Strachan has detailed "what went wrong" with the Andaman Explorer, encouraging readers in a blog to "please have faith". The cruise line purchased the ship last year, initially planning to bring it into service last June but encountered many issues. Strachan apologised for the "inconvenience suffered by those pioneering passengers who booked" on the vessel and declared "the ship is now fully registered and licenced, alas too late for the passengers booked last season". The problems began when the delivery company stripped the vessel of any removable ...
The above snippet is the first part of an article sent to subscribers in Cruise Weekly's issue from 18 Apr 17
CLICK HERE to download Cruise Weekly from 18 Apr 17
Make a comment...