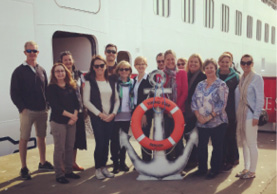 Aussies explore Viking Star
TEN agents and their guests recently experienced a six-day taster of Viking Star's 13-day Mediterranean Odyssey ocean cruise from Barcelona to Rome. The group participated in cruise-included excursions to Toulon's Old Quarter, a walking tour of Monaco and a visit to the leaning tower of Pisa. Optional excursions were also offered, such as a visit to The Gothic Quarter, Catalonian Cuisine in Barcelona and a Tuscan wine & Merenda tasting in Florence. Agents who participated in the famil include: Gina Maitland, Alpha Travel; Jacqueline Nelson, Albury Travel and Cruise; Kirilly Plum, ...
The above snippet is the first part of an article sent to subscribers in Cruise Weekly's issue from 11 Apr 17
CLICK HERE to download Cruise Weekly from 11 Apr 17
Make a comment...