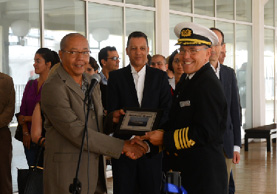 Azamara arrives in Cuba
AZAMARA Club Cruises made its maiden visit to Cuba on Fri with Azamara Quest docking at the Sierra Maestra terminal. Toasting the arrival, president and chief executive officer of Azamara Club Cruises, Larry Pimentel said the company is "especially proud to be the first brand from RCL's global fleet to bring our guests to Cuba". "Today demonstrates our commitment to Cuba and our eagerness to help guests discover the many aspects of Cuba by connecting guests to the people and places that make the country so vibrant and full of ...
The above snippet is the first part of an article sent to subscribers in Cruise Weekly's issue from 06 Apr 17
CLICK HERE to download Cruise Weekly from 06 Apr 17
Make a comment...