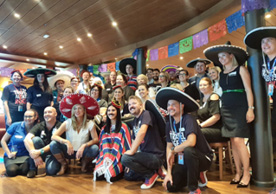 Carnival's new Aussie incentive
AUSSIE travel agents have the chance to win a cruise to the Mexican Riviera under Carnival Cruise Line's latest incentive marking the Mexican national holiday, Cinco de Mayo. During May, all Australian agents who book a client on a Carnival Mexican cruise will go in the draw to win a seven-night cruise to the Mexican Riviera or one of three MEXI-FUN hampers up for grabs each week. Carnival Cruise Line vp Australia Jennifer Vandekreeke and director of sales Anton Loeb launched the incentive on Fri on board Carnival Spirit. Joined ...
The above snippet is the first part of an article sent to subscribers in Cruise Weekly's issue from 09 May 17
CLICK HERE to download Cruise Weekly from 09 May 17
Make a comment...