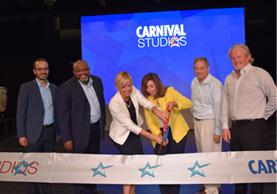 Carnival's new rehearsal space
CARNIVAL Cruise Line unveiled its "Carnival Studios" last week, a 4,134m2 rehearsal venue in Davie, Florida near its Miami HQ. The expansive space was developed over three years and includes eight music studios, five full-stage dance studios, a training room and green room. Over 500 entertainers and performers will rehearse new shows at the studio. The line said the launch of the creative hub was designed to further elevate its entertainment offerings across the fleet. The Carnival team is pictured opening the studio.
The above snippet is the first part of an article sent to subscribers in Cruise Weekly's issue from 23 May 17
CLICK HERE to download Cruise Weekly from 23 May 17
Make a comment...