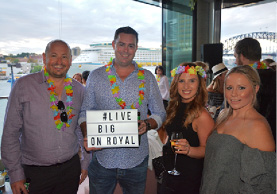 RCL wraps up a record summer
ROYAL Caribbean Cruises marked Explorer of the Seas' final departure from Sydney's OPT for the season on Sat with an event at Circular Quay. Attended by more than 120 agents, media and staff, the function wrapped up a record-breaking summer cruise season. "We increased capacity by 17%, introduced two new ships to the region, completely refreshed another, launched a brand new cruise port in Wollongong, and wowed Aussies, Kiwis and more than 50,000 guests from overseas on over 90 different itineraries around Australia, New Zealand, the South Pacific and Asia," Adam Armstrong, managing director, ...
The above snippet is the first part of an article sent to subscribers in Cruise Weekly's issue from 27 Apr 17
CLICK HERE to download Cruise Weekly from 27 Apr 17
Make a comment...