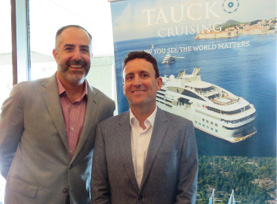 Tauck focuses on space
RIVER cruise passengers are "hungry for something different and something better", Steven Spivak, vp global sales told CW at an event in Sydney on Tue. Tauck is in the process of reconfiguring half its European river fleet and recently dialled back pax number on ms Treasures and ms Esprit from 118 to 98. "The size of this ship that we have 98 people on, Scenic or APT will have 150 or 160 people and that's a very different experience," Spivak said. "While most river cruise lines are focussing on hardware, that's not what river cruising ...
The above snippet is the first part of an article sent to subscribers in Cruise Weekly's issue from 25 May 17
CLICK HERE to download Cruise Weekly from 25 May 17
Make a comment...