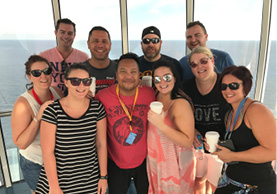 To Infinity and beyond!
TWELVE top-selling Infinity retail agents jumped aboard Ovation of the Seas recently for a five-night cruise from Singapore via Penang and Phuket. The team mastered the vessel's bumper cars, iFly skydiving and Flowrider surfing experiences and enjoyed the on board entertainment, dining options and the North Star. Pictured in the back row are: Tony Soden, Royal Caribbean; Sam Woods, Escape Travel Casuarina; Luke Graham, Flight Centre Plaza and Cody Johnson, Escape Travel Adelaide City. In the front row are: Lisa Burge, Flight Centre Fremantle; Caitlin Shannon, Infinity Cruise Atlantic; Chuon ...
The above snippet is the first part of an article sent to subscribers in Cruise Weekly's issue from 11 May 17
CLICK HERE to download Cruise Weekly from 11 May 17
Make a comment...