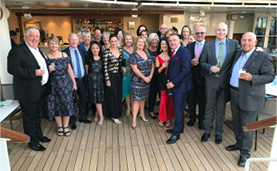 Aussies shakedown Muse
A team of trade and media are busy exploring Silversea Cruises' new ship Silver Muse on its shakedown cruise. So far the group (pictured enjoying poolside cocktails) have dined at numerous venues on the vessel, including Atlantide, La Terrazza, Silver Note, La Dame, Indochine and Kaiseki, as well as having the opportunity to choose from 24 hour room service. The shakedown cruise is carrying 332 trade and media guests from all over the world and is sailing from Genoa bound for Barcelona. The cruise was accompanied by Silversea executives including Manfredi Lefebvre, ...
The above snippet is the first part of an article sent to subscribers in Cruise Weekly's issue from 06 Apr 17
CLICK HERE to download Cruise Weekly from 06 Apr 17
Make a comment...