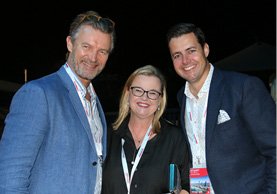 Cruise chiefs say Helloworld
THE cruise sector was out in force last week on the Gold Coast, with senior executives from most operators attending the 2017 Helloworld Owner Managers Conference at the Gold Coast Convention & Exhibition Centre. Attendees included P&O Cruises Australia president Sture Myrmell; Uniworld Boutique River Cruises managing director Fiona Dalton and Princess Cruises vice president Australia Stuart Allison, who are pictured catching up during the conference welcome function at Sea World. The event also included a major presentation on cruise by Helloworld executive director Cinzia Burnes.
The above snippet is the first part of an article sent to subscribers in Cruise Weekly's issue from 23 May 17
CLICK HERE to download Cruise Weekly from 23 May 17
Make a comment...