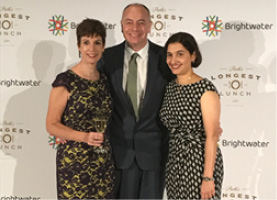 Cruising at a long lunch
ON FRI, members of the cruising industry attended Perth's Longest Lunch, hosted by Brightwater in the new Crown Casino Ballroom. Silversea donated a suite that raised over $18,000 for the charity group. All funds raised will go towards making a difference to the lives of older people in residential care, individuals living with Huntington's Disease, and younger people with disabilities, and their families. Pictured are: Gina Maitland, Alpha Travel; Craig Owens, Silversea; and Khush Suntoke, Cruise World.
The above snippet is the first part of an article sent to subscribers in Cruise Weekly's issue from 23 May 17
CLICK HERE to download Cruise Weekly from 23 May 17
Make a comment...