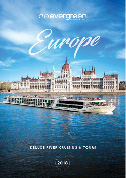 Evergreen's rebranding
EVERGREEN Tours has a new look and a new name - Evergreen Cruises & Tours - under a rebrand announced this week. The company made the move to better reflect its range of cruises and tours and has rejigged its logo with an infinity symbol and a central wave element to signal the "importance of our cruising program and link to sister company, Emerald Waterways". The reveal coincided with the release of the main 2018 Europe River Cruising brochure (pictured), which included an expanded cruise offering. "On the back of last year's ...
The above snippet is the first part of an article sent to subscribers in Cruise Weekly's issue from 04 May 17
CLICK HERE to download Cruise Weekly from 04 May 17
Make a comment...