A swim with wild orcas in the fjords of Norway, a husky safari, a meeting with the indigenous Sami people of the Arctic, a reindeer camp and the stunning Northern Lights form part of a new eco holiday in 2019 launched by Australian company, Majestic Whales Encounters.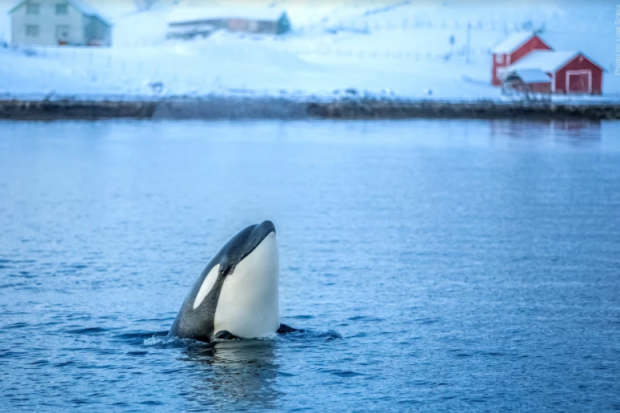 The Orca Swim and Northern Lights Expedition in Norway in November, 2019, is the first whale swim tour outside the South Pacific offered by Majestic Whale Encounters which also packages whale swim holidays in Tonga every August and September.
Led by renowned Scottish photographer and conservationist, Grant Thomas, the 10-day expedition features a six-night cruise along Norway's wild coastline and three nights in boutique cabins. Guests will sail aboard the 16-passenger MS Stronstad, an expedition vessel with hot tubs, sauna and central heating.
The round-trip cruise along Norway's spectacular fjords from Tromso offers guests a unique opportunity to see humpbacks, finn and minke whales, puffins, bearded seals, deer, and a once-in-a-lifetime opportunity to swim with the orcas – with the protection of a dry suit!
After the cruise, the tour continues ashore with three nights spent in cabins at the bottom of snow-capped mountains near the historic city of Tromso – one of the best vantage points in the world to see the spectacular phenomenon of the 'Aurora borealis', the famous Northern Lights. Local hosts, warm shelters, thermal winter suits, tripods, and a constant supply of hot chocolate complete this experience.
The following day, the group will go to a Sami reindeer camp where a 200-strong herd stay in the winter months, with guests able to feed and pat the reindeer. A short sled ride will be offered and afterwards guests are invited into a traditional lavvo (Sami tent) to enjoy the rare offering of a traditional meal cooked on a fire while listening to stories of Sami culture and daily life.
The tour culminates in a day at the Tromso Husky Farm, where guests will be greeted by 120 Alaskan huskies and, if conditions are right, they can help drive a sled and team of dogs through the scenic landscape with warm thermal suits, winter boots and gloves provided.
The 10-day tour starts in Tromso, Norway, on November 22, 2019, and is available from $8400 per person, twin-share, including a six-day cruise, use of dry suits, all main meals, transfers, three nights' accommodation in Tromso, Husky safari, reindeer experience and Northern lights tour. Flights from Australia are extra.
For bookings or information, call Majestic Whale Encounters on 0405 594 253 or visit www.majesticwhaleencounters.com.au
SOURCE: Majestic Whale Encounters